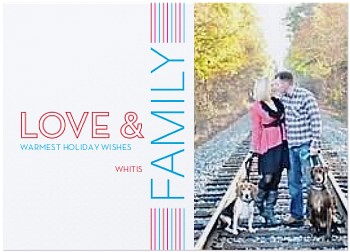 Modern Family Holiday Card
Okay, so this is one of my favorite Christmas cards. But I didn't use it! I don't know why! Probably because I came up with lots of ideas and then couldn't decide!! But this was one of them! I hope you enjoy seeing it. I am going to enjoy getting a $25 gift card to shutterfly just for sharing it before January 31st!
I hope you all are enjoying trying to keep your new years resolution. I can tell you that I'm doing great. Hope abounds at the Whitis household!! Working hard on adoption paperwork, having fun together, enjoying photography....we are just a busy little bunch, but really enjoying every minute of it!
I have to share these baptism pictures. They are from 2010...and I am LATE LATE LATE. But hey, they are special...and I want to share them!! ALong with many others, our sweet (AMAZING) friends Josh and Kelsey watched their son Aiden get baptized along with our pastor's youngest daughter, Ashley. It was super special. And I might have shed a couple tears....
Enjoy!
Our Pastor and Friend, Jeff..
Christy, our pastor's wife...excited to see her little girl and all these others baptized!
Our sweet friend Aiden, declaring his love for the Lord through baptism.
I'm so proud of him! He's such an awesome brother!
I loved how excited she was coming out of the water...
Our pastor's daughter, and our dear friend..ASHLEY..
Some of the beginning pictures are shaky...because I was crying :) Then there is momma in the background, so proud!!
Sweet Jocelyn was there to see her brother get baptized!!
Hope you had an awesome Sunday!!!